How To Create A Functional Home Office
So many people are now working and Zooming from home these days - and that doesn't look like it's going to end anytime soon.
If that's you, and you've been making do in a crappy basement corner with your laptop propped up on some storage bins and a cushion underneath your butt, it's time to get serious about setting up a functional and organized desk space in your house.
You're not alone - so many people are in the same boat right now and don't have designated space at home to work. But even if you have to carve out a tiny spot in your bedroom or an unused space at the top of a stairwell, now's the time to get it set up for a whole new season of work-from-home.
An organized desk isn't just about how it looks (although that's important for a calm workday as well). It's also about function, comfort and efficiency. You should be able to perform your work easily, quickly grab what you need and not have a backache by the end of the day!
If your desk space needs a refresh or you just want a nicer and more comfortable set-up, here are some ideas you can do in a weekend.
1. If you don't have an actual desk, make one.
Carve out a flat surface for your desktop - and think outside the box. You could purchase a wide plank from a hardware store and stain or paint it and put it on crates. You could find a cheap coffee table at a yard sale and paint it over and sit on the floor. Maybe you could turn a closet into your office. Or you might invest in a desk on wheels that can be moved into a corner somewhere when not in use. Invest in a chair that's ergonomically comfortable for the long-haul. Or use comfortable pillows and sit your back straight against a wall if you're on the floor. If you opt for a standing desk, make sure to get a cushy kitchen mat for underfoot.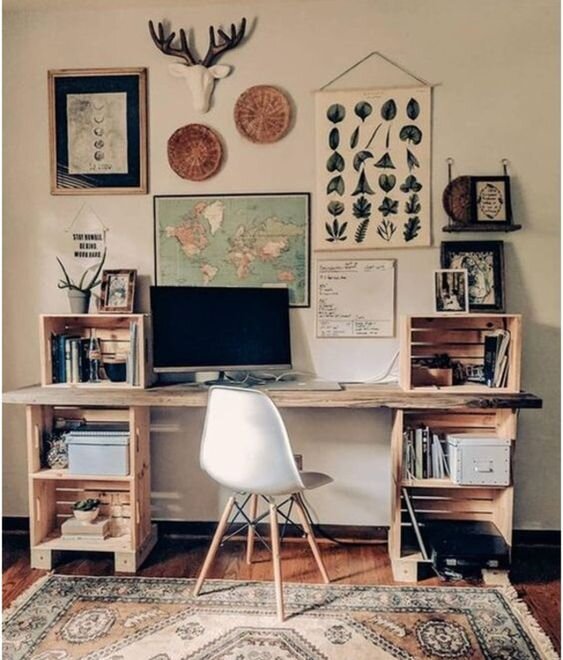 2. Use a monitor stand on your desk.
Make sure you have a monitor for easier viewing and keep it at the right ergonomic height with a monitor stand on your desk. You could invest in one that also gives you storage underneath, or you could simply use something you already own - like a crate or a stack of books.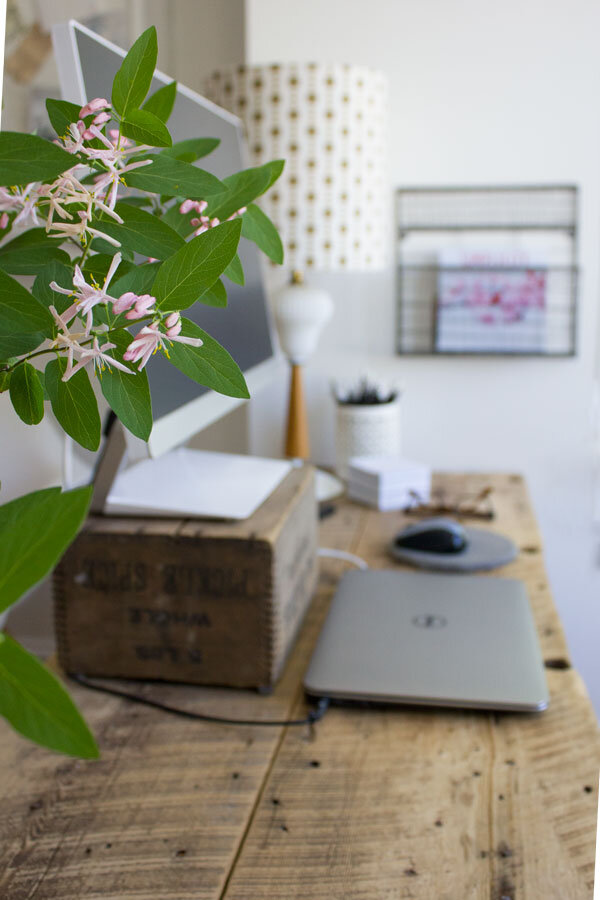 3. Make use of small shelves.
Whether you put a small shelving unit on your desk or hang a shelf on the wall above, take advantage of vertical space for storage of papers, notes, glasses and any other things you need daily for work.
4. Use mugs, cups, vases and even tin cans.
Repurpose what you already own as storage for tools and utility items like pens, scissors, paper clips, thumb drives, etc. Get creative by wrapping repurposed tin cans with rope or colourful yarn or pretty paper. Keep them within reach on your desk so everything has a home.
5. Use pegs to hang things up.
Make use of wall space around where you work at home to add pegs, hooks - or even a full pegboard - to hang up useful things like tools, headphones, glasses and memos.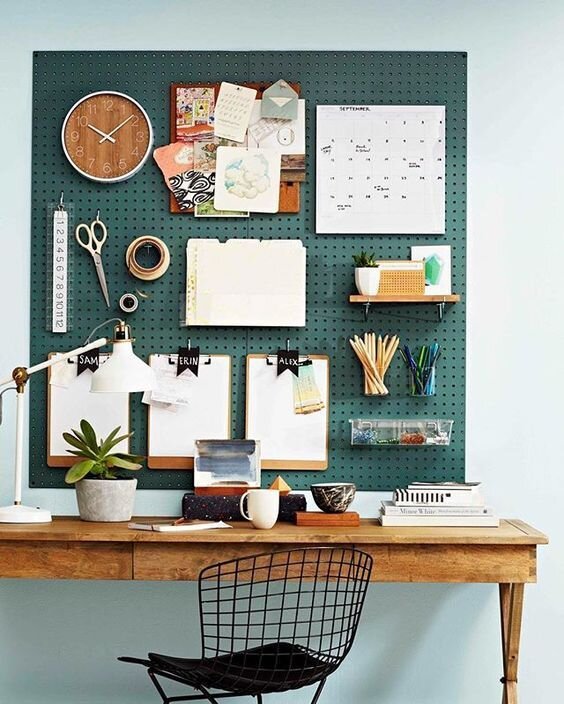 6. Have good lighting.
Task lighting will make it easier on your eyes during the day and easier to spot you on Zoom meetings! For tiny spaces, a clamp-on lamp works well.
7. Get creative with storage.
Use cute bags and baskets hanging on hooks or on the floor to house things like printer paper, reference books and extra electronics and cords. Or get a rolling cart for storage that moves where you need it (great for school supplies!).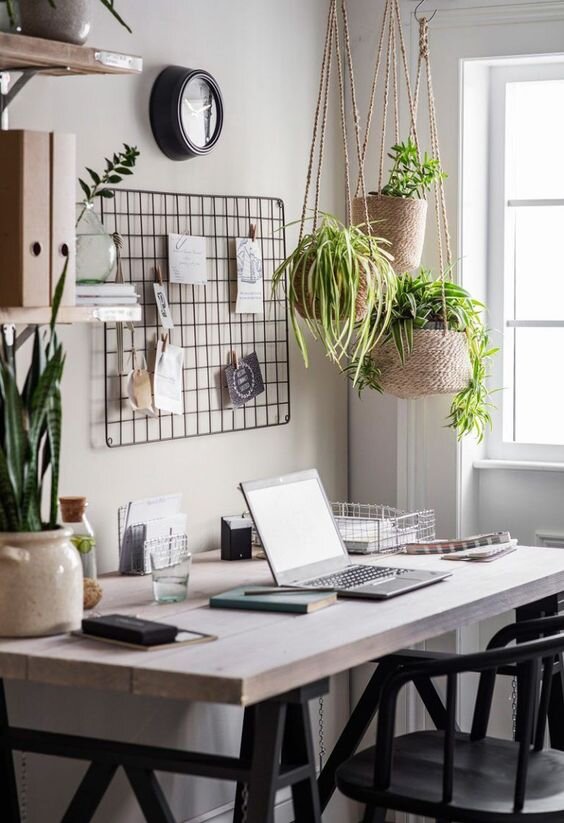 8. Add a natural element.
Nature is soothing to the soul - so having a green plant or even a piece of driftwood or jar of seashells at your workspace is very calming. Try keeping desk space free by using a clean-lined modern plant stand.
9. Get extra cords.
One of the biggest convenience factors when you live at home is investing in extra cords for you computer, monitor and all other extra gadgets you need for work. Have them set up permanently at your desk space with a USB hub for everything to plug into. Then whenever you bring your laptop back to your work area after lounging around with it watching Netflix in bed, you can quickly get set up again. And keep them neat by using clips to hold them neatly along your desk space!
Get serious about your working space at home if you're spending a lot of time there now. You'll be thankful a few months down the road.